Is your cooler specification higher than the system being tested?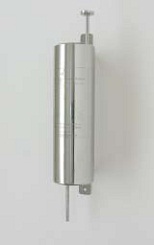 Designed specifically for taking high quality chemistry/TOC, conductivity and microbiological samples safely from steam or heated recirculating water systems.

The use of high quality materials reduces the risk of sample contamination. All sample contact surfaces are electropolished 316L stainless steel with Ra 0.25 µm (10 µin) surface finish.

The heat exchanger coil is self-draining. Fully traceable materials are used – a full certification package is provided for all sample contact surfaces.

Product features:

100% 316L stainless fabrication with bright polish finish.

Easily cleaned and compact sanitary design to allow it to be located in clean areas.

The compact design requires a minimum of space.

Sample outlet suitable for flaming.

The counter current flow makes the cooler efficient.

Designed for either wall mounting using integral 316L stainless steel brackets with space to allow cleaning behind, or for portable applications where screw-in legs are provided.

Both fixed and portable models are designed to be steam sterilized (or dry heat sterilized / depyrogenated). Supplied with comprehensive operating and safety instructions.


Sample connection
½" Tri-Clamp© compatible
Cooling water connections
1/2" BSP or NPT options
Coil surface area
0.113 m2 (1.217 ft2)
Coil design pressure
115 barg (215 psig)1
Shell dimensions
76.3 mm dia. x 250 mm high
Shell design pressure
110 barg (145 psig)1
Weight
1.5 kg (3.3 lbs)
Capacities (approximate)
Steam 160 ml/minute*
Water 500 ml/minute*
*Assumes cooling water at 20°C and flow @ 6 litres/minute
1
Pressure/temperature is dependent upon Tri-Clamp© & seal suppliers specification
SQ2-F Fixed Version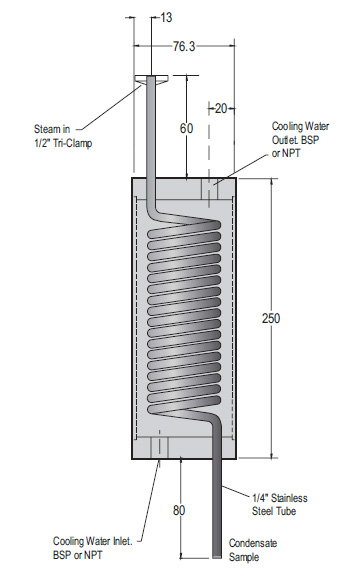 General Layout (all dim = mm)
Mounting Brackets (all dim = mm)
SQ2-P Portable Version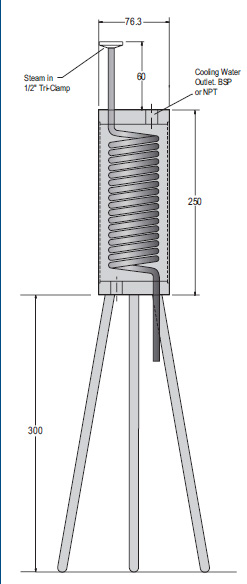 General Layout (all dim = mm)

For further information and/or pricing, please follow this link to our info request form.